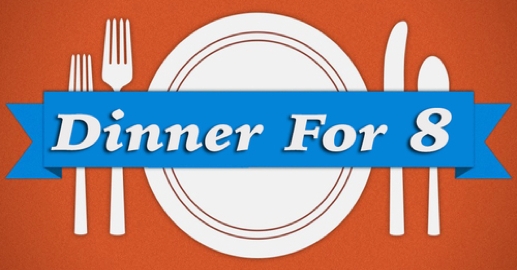 Dinner For 8
Act 2:46  "So continuing daily with one accord in the temple, and breaking bread from house to house, they ate their food with gladness and simplicity of heart…"
The Dinner for 8 ministry is a great way to meet new people at church and get to know your church family better. Dinner for 8 Groups provide the opportunity to spend time eating and sharing together.
What Happens at a Dinner for 8?
Groups will plan a meal and get together at least 3 times over a period of 3 to 4 months rotating to participants homes, at a local restaurant, or at the church.
The emphasis is on fun and fellowship, so you don't have to be a great cook to participate. In addition to having dinner together, plan on spending some time playing games, just hanging out and praying together. It doesn't get any easier than this!
 How does a Dinner for 8 Group work?
Simply fill out the registration form which can completed online for you and your spouse (if applicable) or fill out a form found at the Information Table at the church.
Once groups are formed, a Group Coordinator will be selected from the group roster. They will contact members to arrange the details for the first gathering.
Dinner groups are encouraged to be creative in the meals they enjoy together. Consider picking a dinner "theme night" (i.e. Italian night, dessert night, soup night, etc.) and everyone can bring a dish that goes along with that theme. 
All that sounds pretty good, so far, but who cooks the meals?
Everyone! Potluck dinners are the best way to simplify meal planning and distribute the cost among everyone in the group.
How are the Dinner for 8 Groups formed?
As Dinner for 8 Groups are formed, we will put people together to make sure each group has at most eight adults.
Family size will be considered when creating groups, but generally speaking some groups will have at most 8 adults comprised of either all couples, two couples and four singles, and others might have one couple and six singles. It all depends on who signs up. The mystery is a part of this ministry's excitement!
Will there be separate Dinner for 8 Groups for singles and couples?
No! Our intention is to mix EVERYONE together. That way you will have more fun.
Sounds like fun! Can I sign up anytime?
Yes, sign up anytime! Dinner for 8 Groups are an ongoing process. Once eight people have signed up, a new group is born!
Being a Group Coordinator sounds scary! How are they selected and what do they do?
Being a Group Coordinator is fun and easy (as long as you have a phone and or email).
You can sign-up to be a Group Coordinator on the form. Depending on sign-ups, we may need to select one person to help with communicating details for the dinners.
We ask that the Group Coordinator contact group members to setup the location, date and food sign-ups for the gathering. It is highly recommended to schedule all the future gatherings during your first night together.
Group Coordinators will then serve as a point person, as needed.
I don't have room to host a dinner or I really can't cook!
Our desire is for you to spend time eating together, getting to know each other and to include everyone.
Your group might choose to repeat a host home or eat out. If finding a host home is difficult, your group is welcome to schedule dinner at the church.
We want everyone to feel that they can participate.
This is sounding better and better, but I/we have kids. What happens to them?
The decision to include children will be determined by your group.
Please indicate on the registration form if you are open to including children or must include your children in your Dinner for 8 Group. Note: the church will not be providing any formal childcare for this ministry.
 What happens after our final dinner gathering?
Hopefully, you will have had a wonderful experience that you will continue meeting as a Dinner for 8 Group for another season or sign-up for another round with another group.
Who do I contact for questions?
Sign up NOW!