About Us
As a Calvary Chapel affiliate, Calvary Chapel Arrowhead has flourished since its first service on November 9th, 2003! We are currently meeting at Candeo School in Peoria, AZ. We conduct adult worship and bible study, nursery, children's ministries and youth group. If you live in the area and have an interest in this outreach into your community, please call the office for more information.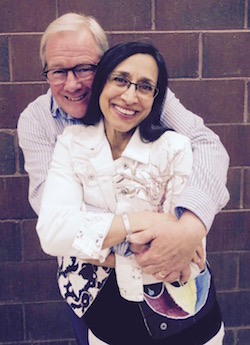 Pastor Dennis Templeton
Pastor Dennis Templeton is the senior pastor of Calvary Chapel Arrowhead, Glendale,  Arizona
He was ordained in 1985 and has served with various Calvary Chapels in Arizona from 1983 to 2008 as a youth pastor, worship leader, assistant pastor and school administrator.
Dennis graduated from Arizona State University with a Bachelor's Degree in Education in 1985. His education career includes teaching in private, charter and public school settings. Since, he has taught 3rd – 5th grade regular classroom and gifted students in the Kyrene School District; 6th – 11th grade history and science at Calvary Academy South Mountain; Freshman and Junior Bible at Valley Christian High School; English, Speech, U.S. History and U.S. Government at Gilbert Early College and Marriage and Family at Calvary Chapel Bible College.
In 1982 he married Sheri, the love of his life and has worked with her producing high school plays for over 30 years. They have two beautiful daughters and one wonderful son-in-law. Denae Downs who serves the Lord in Ferrara, Italy with her husband David and Heather, who is finishing her early childhood education degree at Grand Canyon University.
Pastor Dennis is currently having more fun than a human his age should be allowed.
Statement of Faith
The Calvary Chapel Church has been formed as a fellowship of believers in the Lordship of Jesus Christ. Our supreme desire is to know Christ and be conformed into His image by the power of the Holy Spirit. We are not a denominational church, nor are we opposed to denominations as such, only their over-emphasis of doctrinal differences that have led to the division of the body of Christ. We believe that the only true basis of Christian fellowship is His (Agape) love, which is greater than any differences we possess and without which we have no right to claim ourselves Christians.
WE BELIEVE the Bible to be the inspired, the only infallible, authoritative, inerrant Word of God. (2 Timothy 3:15-17; 2 Peter 1:21).
WE BELIEVE there is one God, eternally existent in three persons: Father, Son and Holy Spirit. (Genesis 1:1; Deuteronomy 6:4; Matthew 28:19; John 10:30)
WE BELIEVE in the deity of Christ (John 10:33); His virgin birth (Isaiah 7:14; Matthew 1:23; Luke 1:34-35); His sinless life (Hebrews 4:15, 7:26); His miracles (John 2:11); His vicarious and atoning death (1 Corinthians 15:3; Ephesians 1:7; Hebrews 2:9); His resurrection (John 11:25; 1 Corinthians 15:4); His ascension to the right hand of the Father (Mark 16:19); His personal return to earth in power and glory. (Acts 1:11; Revelation 19:11-16)
WE BELIEVE in the absolute necessity of regeneration by the Holy Spirit for salvation because of the exceeding sinfulness of human nature, and that all are justified on the single ground of faith in the shed blood of Christ, and that only by God's grace, through faith alone, are we saved. (John 3:16-19; 5:24; Romans 3:23, 5:8-9; Ephesians 2:8-10; Titus 3:5)
WE BELIEVE in the resurrection of both the saved and the lost; they that are saved unto the resurrection of life, and they that are not unto the resurrection of damnation. (John 5:28-29)
WE BELIEVE in the spiritual unity of believers in our Lord Jesus Christ. (Romans 8:9; 1 Corinthians 12:12-13; Galatians 3:26-28)
WE BELIEVE in the present ministry of the Holy Spirit by Whose indwelling the Christian is enabled to live a godly life. (Romans 8:13-14; 1 Corinthians 3:16, 6:19-20; Ephesians 4:30, 5:18)